Welcome To The College of Public Service
Contact Us

Address:

1002 Commerce Street

Suite 420

Houston, Texas 77002
Phone Numbers:

General: 713-221-8906


Fax: 713-223-7440


CPS Advising: 713-221-8906


Undergraduate Admissions:

713-221-8522

Graduate Admissions: 713-221-8093
---
CPS Social Media
UHD Commencement Ceremony Preparation Fall '23

The University of Houston-Downtown is hosting the 75th Commencement Ceremony honoring UHD undergraduate and graduate students on Saturday, December 16, 2023, at the Berry Center located in Cypress, Texas.
The Fall Commencement Ceremony is reserved for Summer and Fall 2023 graduating students. There will be two ceremonies split by academic college, please find the college ceremony times above. Faculty, staff and administration look forward to celebrating the success of graduating students!
First Ceremony - 10:30 a.m.
Marilyn Davies College of Business
College of Public Service
Second Ceremony - 3:30 p.m.
College of Humanities and Social Sciences
College of Sciences and Technology
UHD Commencement Ceremony Preparation Video



---
Mallett Undergraduate Student Teaching Scholarship ​
​The Mallett Scholarship is available to undergraduate students entering the semester of student teaching. Students who meet the initial requirements are eligible to apply for the $3,500 scholarship.
Due Dates: end of November for spring awards and end of March for fall awards.

---
Urban Education Scholarship
The
Emeritus Max Castillo Scholarship
was founded in honor of former UHD President Max Castillo. As such, the scholarship is open to undergraduate preservice teachers admitted to the UE program.
Due Date: 4th
Friday in March
The scholarship provides
$1,100 once a year for the fall semester, and it should be used towards tuition, books, fees, and/or supplies
for the upcoming academic semester.
---
The College Of Public Service
Mission
The University of Houston-Downtown College of Public Service exists to educate and develop public servants, advocates, and leaders in criminal justice, education, and social work.
We offer 4 undergraduate degrees and 3 graduate degrees.
Top 10 Reasons to Choose CPS at UHD
---
More About the College of Public Service

---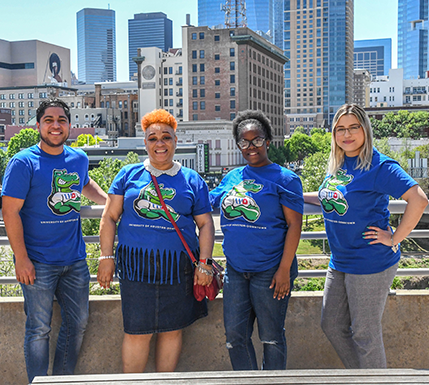 ---
College of Public Service By the Numbers
7
Degrees Offered
Choose from 5 undergraduate degrees and 2 masters degrees at the College of Public Service.
93%
Recommend to Students
Students who are graduating would recommend the College of Public Service to their family and friends.
94%
Students Feel Confident
Students are confident they will carry out their professional responsibilities upon graduation.
82%
Financial Assistance
Approximately 82% of UHD's full-time students receive on average $10,000 in scholarships, grants and/or loans each year.
167
Service-Learning Locations
Our students are given the opportunity to enhance their learning through real-world experiences.
18:1
Student:Faculty Ratio
Our faculty gets to know our students by name.
#1
Diversity
The University of Houston-Downtown is the most diverse University in the Southern Region of the USA.