Requesting UHD Transcripts
University of Houston–Downtown now uses Parchment for all official UHD transcript requests. To request an official transcript, students will be ordering through Parchment. Please review this page for additional information and instructions.
Requesting Official Transcripts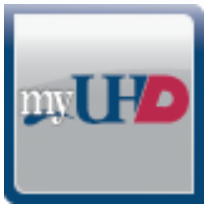 Log into your MyUHD account
Select "Student Records & Enrollment" tile
Select "Request Official Transcript"

University of Houston-Downtown has partnered with Parchment to order and send your transcript and other credentials securely.
For helpful videos on how to request a transcript in Parchment, visit: Parchment How-to Guide Videos
*Please note, printed transcripts (mailed or pickup) for former students who attended before fall 2012 may take up to 10 business days to process. If an official transcript is needed sooner, please consider ordering an electronic transcript that is processed and sent directly from University of Houston-Downtown.
Requesting Unofficial Transcripts
An unofficial transcript is a copy of your UHD academic record. Unofficial transcripts are not sealed in an envelope or sent to third parties. They are used for informational purposes only and do not have the university name, logo, or seal, as these are only provided on official transcripts. If needing for admissions purposes, please note that most schools require an official transcript.
Log into your MyUHD account
Select "Student Records & Enrollment" tile
Select "Request Unofficial Transcripts"
Download unofficial transcript (your pop-up blocker may need to be disabled)
FAQs about UHD Transcripts
Is there a fee to request an official UHD transcript?
Official UHD transcripts are $10 each.
If I have a hold on my account, can I order a transcript?
Some holds may affect your ability to submit transcript requests until cleared. Please review your myUHD to determine if you have a hold that needs to be cleared.
How are mailed transcripts sent?
Mailed transcripts are sent via USPS Ground. Tracking is not available.
When should I order a transcript if I am currently enrolled and need my grades for this term?
If you are currently enrolled and need final grades posted on your transcript, please review the Academic Calendar for the date grades will be available for your term.
When should I order a transcript if I am graduating at the end of the current term?
Awarded degrees will post to transcripts approximately 4-6 weeks after all grades are posted for the current term. Before ordering an official transcript, you can review your unofficial transcript in myUHD to see if your degree is posted.
Do transcripts show conferral dates of graduation or anticipated graduation dates?
Transcripts do not list anticipated graduation dates.
In the event you are in need of a letter conferring your degree before it is posted, please contact the Graduation Unit at UHDGraduation@uhd.edu to request a Letter of Conferral.
Currently enrolled students needing a letter with anticipated graduation dates can complete an Enrollment Verification Request Form and submit with photo ID to UHDRecords@uhd.edu.
How do I include an attachment with my transcript request?
Attachment forms (for LSAC, NursingCAS, etc.) can be uploaded to your request in Parchment.
I need help logging in to myUHD, who do I contact?
Contact the UHD IT Help Desk at 713-221-8031 for issues with logging in to MyUHD account or resetting a password for MyUHD account.
How do I cancel a transcript request?
Transcript requests that have not been processed and sent can be cancelled online in your Parchment account.
How do I check the status of my transcript request?
Login to your Parchment account to check the status of your transcript request.
Can a third party request my transcript and/or pay for the transcript for me?
Yes, Third Parties can request and pay for transcripts on your behalf through Parchment.
My transcript is wrong or missing information. Who do I contact?
For issues with missing transcript information, please contact UHDTranscript@uhd.edu.
Contact UHD Transcript Department
Transcripts are processed by the Registrar's Office. Contact us via phone, email, virtually, or in-person for assistance.
University of Houston-Downtown
Registrar's Office
One Main Street, Suite N330
Houston, TX 77002
Open Monday-Thursday, 8AM-6PM & Friday, 8AM-5PM
Office: 713-221-8999