Center for Mathematics and Statistics Support
The Center for Math & Statistics Support promotes UHD student understanding of mathematical principles, application of study skills, and independent learning in math and statistics classes.​

​Faculty FAQ @ the Math & Stats Center
Contact Us
Location: UHD, One Main Building
Room: N925
Phone: 713-221-8669
Email: mathcenter@uhd.edu

Tutoring Hours (Fall 2023)
Monday - Thursday
9:00 a.m. - 5:00 p.m.
5:00 p.m. - 7:00 p.m. (Virtual Only)
Friday - Saturday
9:00 a.m. - 3:00 p.m.

Follow us on Social Media!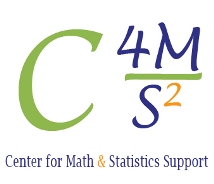 The Center for Math & Statistics Support is ready to assist every step of the way.
Let's work together to succeed!

The Center for Math & Statistics Support provides FREE tutoring services for mathematics and statistics and is available to all UHD students. The Center maintains a relaxed and friendly atmosphere and reduces student anxiety about learning mathematics and statistics. The Center is staffed with experienced UHD math faculty and trained peer tutors.

Testimonials from Students on the Tutors
Thanks to my tutor and how things were explained. I was able to get an A on my last test. Lets see how the final goes!
---
---
How to Schedule a Tutoring Appointment
UHD is committed to enhancing your college experience. UHD Navigate i​s a user-friendly scheduling tool to get you the tutoring you need when you need it!​

Where do I go? You can log into UHD NAVIGATE or use the following below:
Please note that UHD NAVIGATE accounts sync with UHD Gatormail or UHD staff/faculty email accounts. You will use your username and the same password as these accounts to log in to the UHD Navigate scheduling system.

Technical Questions? Forgot your password?
Email the IT help desk: ithelp@uhd.edu or call 713-221-8031.​
---
Important Dates
August 21 to 25, 2023 - Welcome Week Events
August 28, 2023 - First Day for Tutoring, Fall Term
September 4, 2023 - Labor Day, University Closed
November 23 to 25, 2023 - Thanksgiving Holiday, University Closed
December 11, 2023 - Last Day for Tutoring, Fall Term
December 25 to January 1, 2024 - Winter Holidays, University Closed​​
---
​​ ​​Have a recommendation or suggestion? Complete our online feedback form. ​Not the tutoring hours you need? Please let us know by completing our online survey. We'll use your feedback to improve our availability in the future.


Wishing you great health and safety!
-Math & Statistics Center Staff